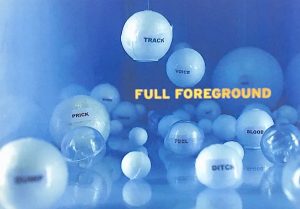 For their collaboration artist Rob Verf and art-writer/poet Roberto Tejada seek to enliven the exhibition space and its logic of display with a set of visual metaphors and language that set into motion differences and associative links between forms of claim-making that engage inner speech and public address. Verf and Tejada present a video installation in which language plays a determinate role.
"Our collaboration constitutes a series of metaphors overturning the pyramids of high and low. In languages popular, elite, disciplinary, and insubordinate, we aim to activate a tutorial akin to that of the exhibition space as a site that galvanizes individuals into cultural citizens. We see 'dialogue' not only as the format of this project, but as content as well—in the material fact of monosyllabic claims on expanded polystyrene foam."
Rob Verf was born in Amersfoort (Netherlands) in 1964. He has participated in many exhibitions, art projects and won awards in the Netherlands as well as abroad. He has lived and worked in Argentina since 2000. In 2006 he participated in the International Studio and Curatorial Program (ISCP) in New York. From 2008 and onwards Rob Verf teaches painting and drawing at the Art Department of the University of Texas at Austin in the United States.
Roberto Tejada is an art writer, cultural critic, and poet who focuses on Latin American and US Latino culture. He is the author, most recently, of National Camera: Photography and Mexico's Image Environment, and Exposition Park. Tejada is Distinguished Chair and Professor of Art History at the Meadows School of the Arts, Southern Methodist University.
https://www.fluentcollab.org/artists/rob-verf/