2013 Tiny Park Drawing Annual
August 8th, 2013 – OWEN BAY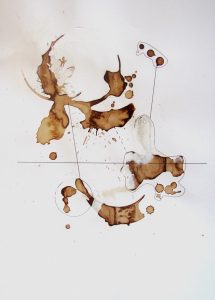 "Tiny Park Drawing Annual is a group exhibition focused on drawings and the concept of drawing, in the widest terms." That is what Tiny Park on its website asks the viewer to put into their lid before absorbing the current displayed work. So focus people, focus on the work from several artists: Sara Frantz (San Antonio), Calixto Ramirez (Mexico), David Culpepper (Austin), Rob Verf (Buenos Aires/Austin), Sam Prekop (Chicago), and Claude van Lingen (Austin).
Two artists' work stood out: Sara J. Frantz's finely refined, tight landscapes and Rob Verf's loose, otherworldy mappings of the figure.
Sara J. Frantz's fine-line graphite on paper work calls attention to what is not there and how it was not missed. The shape of the edited-out object holds the viewer's attention rather then showing how well the artist can render. The editing displays a confident, precise solid technique.
Rob Verf's morning coffee doodles work. Landscape in a Figure is either lighthearted and fanciful, like staring at clouds on a cool spring day or as a glimpse into otherworldly map-madness. Coffee, acrylic, pencil on paper, Verf's media for this drawing, sound like morning marching orders for artists. Repeat three times and create.
I read that Sam Prekop is "well-known as the singer and main songwriter of the influential music group, The Sea and Cake." Never heard of him, so I checked out the band on YouTube. One comments from "xuten," posted 4 months ago, read "this is so hipster, i actually grew an ugly scarf and a vintage bike."   If you're into soft rock, Soft rock your heart away.
Calixto Ramirez's video "Linea en el paisaje II" is basically some guy standing on a rock holding a 12 foot ribbon in the wind. Got it, you're drawing in the wind. It's bland and predictable; Add Sam Prekop's music and it could be commercial for some new prescription drug.
Overall, the it's a nice, diverse showing of talented artists. Nothing to complain about, or for that matter not to get overly excited about, either. Technically skilled, but not pushing many boundaries. The work has the calming effect of easy listening radio. If you dig that for your listening pleasure sip your mocha latte and spend a moment in the soothing Tiny Park gallery, but if you want to push the boundaries of comfort, follow Rachel Jeantel's Twitter feed.